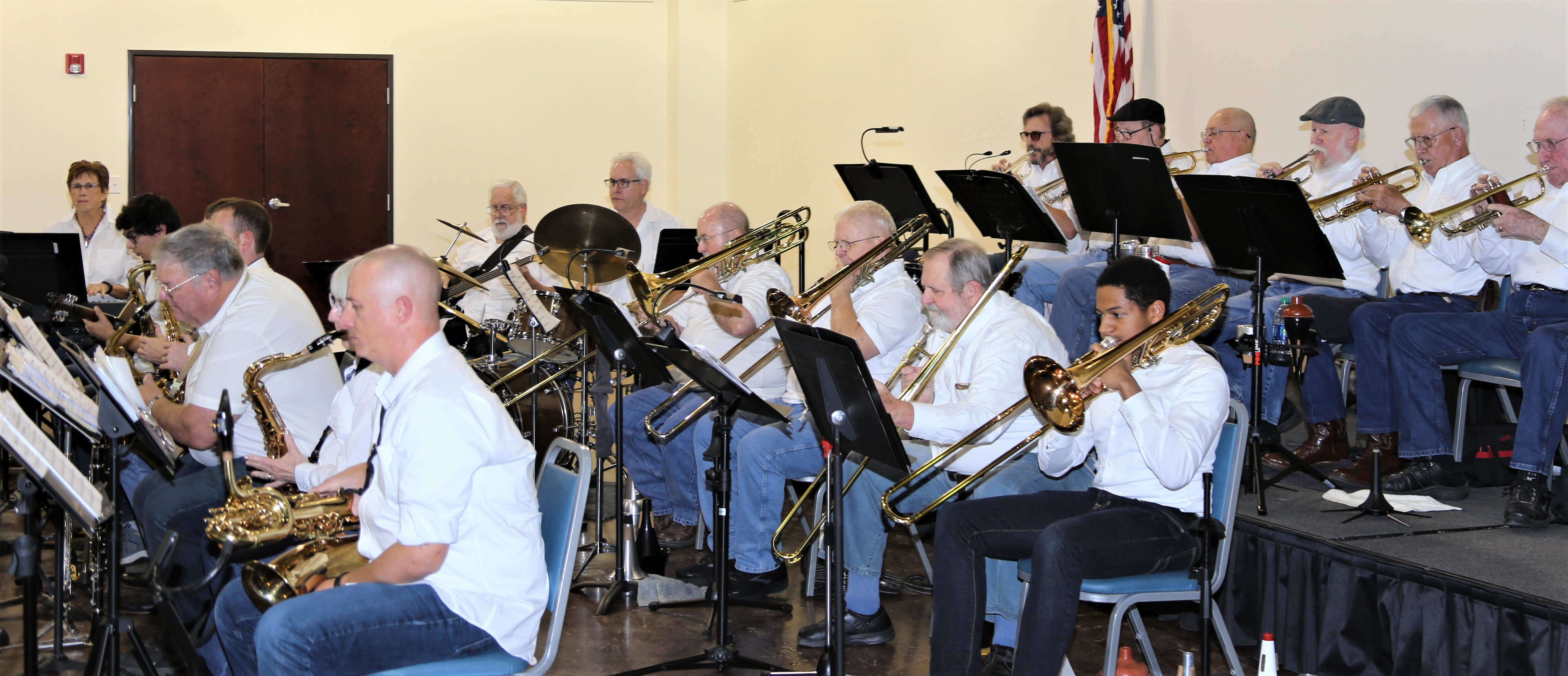 The Wimberley Valley Big Band is a 21-piece ensemble consisting of volunteer musicians ranging in age from 16-90,  who love to play big band era music as well as light jazz. As a part of the Hill Country Community Band, we enjoy non-profit status and offer many free concert/dances to the Wimberley community as well as assisting in local fundraisers and other events.
If you like to listen to the Big Band sounds of Count Basie, Glenn Miller, Quincy Jones, Buddy Rich, and others, or if you like to dance, come to one of our upcoming concert/dances.
If you or your organization would be interested in having the band play at an event, please contact our director, Doug Gillory (hillcountryjazzband@gmail.com) to discuss.
If you would like to donate to support our group and promote this type of music in the Wimberley area, please use the link found on the Supporters page, choose "Donate,"  and please note on your donation "Jazz Band."  We could not provide this musical opportunity without the support of the community.
Upcoming Dance/Concerts:
Mardi Gras concert/dance in planning stage for Saturday, March 2 from 7-9 pm.  Check back for details!
Wimberley Rings in 2019

by Pat Gillory, published in The Wimberley View January 10, 2019
The Wimberley Community Center was transformed into a uptown gala for Wimberley Valley residents to ring in the new year.  On December 31, over 130 people gathered in their "Wimberley dress-up" clothes to dance, listen to great big band music, visit with old friends, and snack their way towards midnight. The dance floor filled quickly with celebrants enjoying the music and the décor while the Wimberley Valley Big Band, under the direction of Doug Gillory, played the music of Count Basie, Glenn Miller, Duke Ellington and Les Brown…music that never gets old.
Party-goers entered through a glittering golden doorway framed by a balloon arch to a sparkling room full of black, white, silver, and gold. Many tables had lighted canopies over them, creating intimate party nooks that were still open to the music and the dancing. Snacks and setups were accented by a giant balloon bottle of champagne pouring out 2019. Other entertainment at the party included a hilarious conducting contest and giant balloon fish floating among the patrons. Intriguing party-goers as they arrived, a giant, glittering gold armadillo hung suspended to the right of the Big Band, waiting for the magical stroke of 12 to drop and signal the end of 2018 before the traditional singing of "Auld Lang Syne" and a complimentary champagne toast.
The First Annual Hometown New Year's Eve Celebration and Dance was a great success, enjoyed by all who attended. The Wimberley Valley Big Band is a non-profit, all-volunteer, 21-piece group, dedicated to bringing the enjoyment of "big band" music to the Wimberley Valley. The Band was assisted in putting on this party by a group of loyal, hardworking volunteers, and through the support of the Wimberley Community Center and the Wimberley Chamber of Commerce, as well as the Wimberley Village Library who sold tickets.
For upcoming events, visit www.hillcountrycommunityband/jazzband or email the Band at hillcountryjazzband@gmail.com, or follow us on Facebook at Wimberley Valley Big Band.