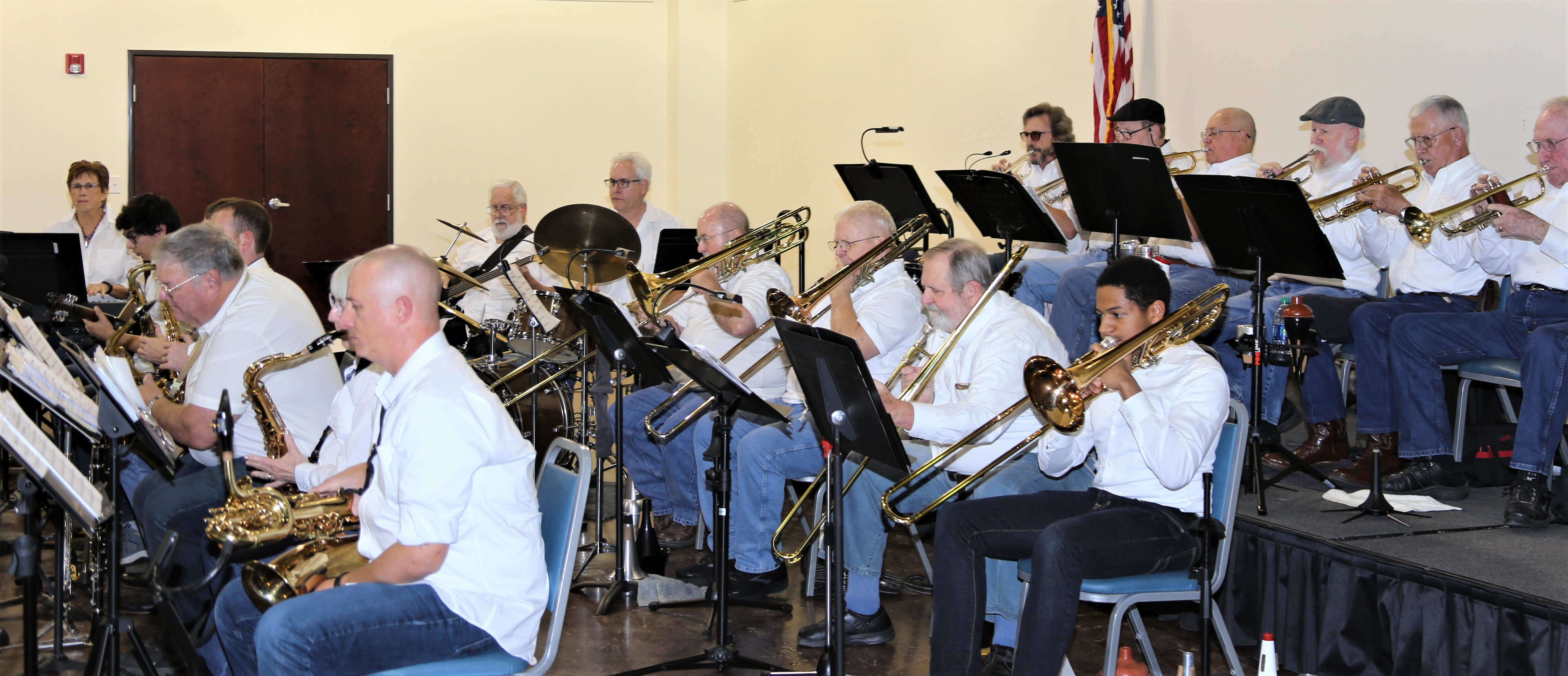 The Wimberley Valley Big Band is a 21-piece ensemble consisting of volunteer musicians ranging in age from 16-90,  who love to play big band era music as well as light jazz. As a part of the Hill Country Community Band, we enjoy non-profit status and offer many free concert/dances to the Wimberley community as well as assisting in local fundraisers and other events.
If you like to listen to the Big Band sounds of Count Basie, Glenn Miller, Quincy Jones, Buddy Rich, and others, or if you like to dance, come to one of our upcoming concert/dances.
If you or your organization would be interested in having the band play at an event, please contact our director, Doug Gillory (hillcountryjazzband@gmail.com) to discuss.
If you would like to donate to support our group and promote this type of music in the Wimberley area, please use the link found on the Supporters page, choose "Donate,"  and please note on your donation "Jazz Band."  We could not provide this musical opportunity without the support of the community.
Upcoming Dance/Concerts:
Fundraising concert/dance benefiting the Wimberley Village Library – Sunday, November 11, from 3-5 pm at the Wimberley Community Center. Tickets available at the library or at the door.
Free Dance – Sunday, December 9, 2018, from 3-5pm at the Wimberley Community Center. Casual. Bring your own snacks, etc.
First Annual Hometown Wimberley New Year's Eve Celebration and Dance – a ticketed event (limit 200 celebrants!) at the Wimberley Community Center – December 31 from 9:00 pm until 12:30 am –Dress code: "Wimberley formal" – snacks, favors, and a complimentary midnight champagne toast – BYOB.  See below for tickets.
New Year's Eve Tickets
Support the Wimberley Valley Big Band by buying tickets for the New Year's Eve Celebration & Dance!  Tickets $37.50 per person (add $2.00 per credit card transaction) available at our dances, through personal contact (jazztix4u@gmail.com), or by writing to us with your check enclosed (made out to Hill Country Community Band, Inc/Jazz Band) with "Tickets" on the information line for $37.50 per ticket.
Mail your check to: WVBB, 12250 FM 2325, Wimberley, TX 78676.  Provide your email address and you will receive an email confirmation that we have received your ticket request.  Your tickets will be either mailed back to you or held on "will call" at the registration desk on New Year's Eve.