The Hill Country Community Band was formed in 1990 as the Wimberley Community Band.  Due to the rapid growth and expansion of the membership, the band's name was changed to reflect the diverse membership from all over the central Texas area.
Our members range in age from 15 to 80+. Our concert season is year 'round. We begin rehearsals in the fall and go through the Fourth of July. We take a break for the rest of the summer and then resume rehearsals after Labor Day. At present, we rehearse on Tuesday evenings from 7pm to 8:30pm at First Baptist Church on Winters Mill Parkway in Wimberley. Please feel free to stop in and listen.
We are always interested in recruiting new members.  If you play or have played a wind or percussion instrument in high school band, you are eligible! Click HERE to complete the contact form and an officer of the band will contact you shortly.
Our Director
The band is led by James Malik, Director of  Bands at Wallace Middle School in Kyle.  He is a graduate of Stephen F. Austin State University with a Bachelor of Music and pursued a Masters Degree in Wind Conducting from the University of Oklahoma.  Professional affiliations include the Texas Music Educators Association, the North American Saxophone Alliance, the Texas Bandmasters Association and Phi Mu Alpha Sinfonia.
HCCB Board of Directors
The Hill Country Community Band is governed by a board of directors. Officers are elected to a two year term by the band membership. Our officers for this session are:
President – Les Tucker
Vice President – Eddie Esparza
Secretary – Candace Bowman
Treasurer – Claire Marchant
At Large – Jennifer Godwin
Our membership consists of the following musicians:
Flute/Piccolo
Shirley Fraser, Pat Grimmer, Lisa Gross, Melissa Guth, Deanna Harrison∗
Oboe
Joanna Millinor, Ivy Roland
Clarinet
Bob Grimmer, Amy Majors, Claire Marchant, Marjorie Prickett. Laura Tanner, Johnny Torres∗
Bass Clarinet
Harvey Reed, Karen Walters
Alto Saxophone
Dixie Camp, Eduardo "Eddie" Esparza∗, Jennifer Locy, Brian VandeWalle
Tenor Saxophone

Candy Bowman
Baritone Saxophone
Lucinda Kapral
Bassoon
Alexandra Williams
Trumpet
Bill Cox, Brian Duchscher, Jennifer Godwin, Tom Hastings, Randy Heaton∗, Edward Rowe, Les Tucker
French Horn
Judy Brittain, Ginger Dickson, Andrea Holweger, John Prickett∗
Euphonium
Darrell Anglin, Nick Rooch
Trombone
Susie Cranford, Neal Mallard, Mark Williams∗
Bass Trombone
Chris Higbie
Tuba
Tom McCormick
Percussion
Valerie Chandler, Dan Stephens∗, Michael Thielen, Scott Tidwell, Sheila Wolf
∗ denotes Section Leader
---
REMEMBERING DICK CRANFORD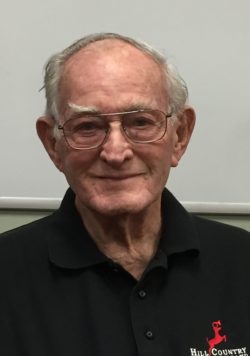 For several years, we enjoyed the privilege of having Dick Cranford and his wife Susie in our band.  Dick passed away on August 29, 2017, at the age of 89.
A band director in San Antonio for 30 years at Alamo Heights and Northside Schools, Dick was also a composer, gifted arranger, and well-known performer spanning generations of musical styles.  After retirement, he enjoyed the challenge of expanding his knowledge and skills to include Dixieland Jazz.
Dick began playing trumpet professionally at age 15.  He was drum major at Brackenridge High School.  Dick earned his BA and Master's degrees in Music Education from North Texas State University in Denton, Texas.  He served in the Army (1948-1952), playing in the 323rd Army Band, where some of his arrangements continue to be played today.  He played for more than 35 years with the Rudy Carrasco Orchestra, 9 years with Alamo City Jazz Band and continued playing well into his 80s at various venues.  He was proud of his association and contributions to community bands in San Antonio, New Braunfels and Boerne, in addition to the Hill Country Community Band, where his musical talents were greatly appreciated.
---